Dear Costumers, due to increasing demand of cassette duplication, and the need of expanding the serivce as consequence, we decided to open a dedicated duplication facility, with its own website and laboratory. The name of the new company will be Tape Dub, and will be run by a team of cassette experts and lovers!
We will continue to take care of mastering of the audio related to the cassette duplication, but the rest of the production will completely happen in the new facility in order to guarantee a faster and professional service. The new web site will be online very soon and you will be redirected to it from this page when will be available.
Thanks for your patience, Analogcut Team.
Cassette Duplication
Our cassette duplication service is optimized to reach of the best sound quality, leaving your creativity free for artwork and design.
Musicassette is an extremely portable medium, has flexible length (from 10 to 100 minutes) that allow to pack long Albums in one single unit. It leaves your creativity completely free, there is no limit in terms of design.
We offer two different  tape duplication systems, and two tape types, in order to serve any kind of demand and budget.
Turnaround time:
- Real-Time: currently unavailable in order to clear previous orders, will be back soon.
- High-Speed: about 3 weeks for regular productions, 4 weeks with on-body printing.
 Audio Source:
• Audio Files as 2 separated tracks:  A Side  and  B Side - Please consider your audio at least 20 seconds shorter of your tape length (example= max length: 29.39min/side for a C-60 tape)
• Master Cassette: Ferric, Chrome or Metal type - it should be the same length
• CDr Master: Submit one CD with just 2 tracks - A Side and B Side
• DAT, 1/4" Tape or USB stick please contact us
       Please name your file: "SIDE-A" and "SIDE-B"
Duplication System:
• Real Time, the best way to reproduce a very wide frequency response, reaching clear and detailed high end and warm bottom end with the lowest possible noise floor.
• High Speed 4x, cheaper and faster, the sound quality is still good, the noise floor is a slightly higher. Suggested for disto/noise music or Lo-Fi material, not really suitable for classical or extremely dynamic music.
Tape Type:
• Ferric: warmer sound, punchy low end, a bit of limitation on the high end, the best choice for cassette sound lovers.
• Chrome: very detailed reproduction, same frequency response of CD, the best for Hi-fi reproduction.
We take care also of the design, offering printing service of J-Cards (normal or with flaps), O-Cards and on body Labels.
Please send us PDF or TIFF files (300 dpi).
If you have special request please contact us, we are open to your custom idea.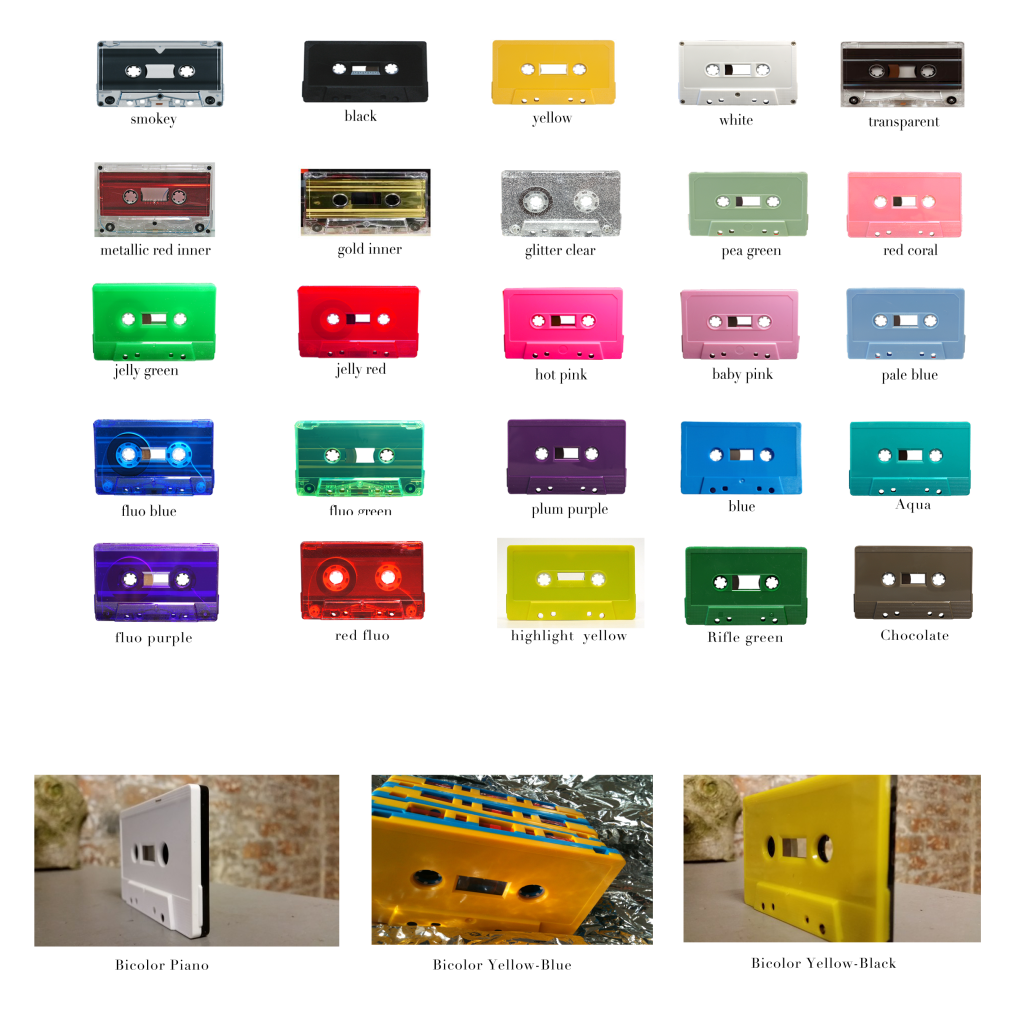 Templates: